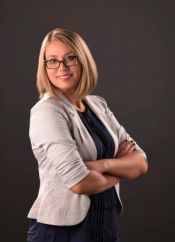 Sarah Riha
Realtor
Mobile: 515-570-8695
Email Sarah
Sarah grew up in Emmetsburg, a small town in Iowa. Her family resided there for 17 years before moving to Humboldt, Iowa, where she graduated from Humboldt High School in 1998.
After graduating high school, Sarah went on to earn an A.A. degree from Iowa Central Community College in Fort Dodge, Iowa. She has worked for Fort Dodge small business owners for the last 15 years as an administrative professional. Bringing her expertise in customer service and knowledge of business management, Sarah is ready to start a career in real estate.
In her free time, Sarah enjoys spending time with her family. Being a mother is one of her greatest joys. She and her significant other, Alex, have two children, Skyler and Kade. With Skyler becoming a senior in high school and Kade going into 7th grade, the family is always on the go! Sarah discovered her passion for real estate after Alex and her bought a house and delved into the process of home renovation. They plan to start work on a flip house in the near future, furthering her knowledge as to what it takes to renovate homes. This will in turn help her better serve her clients with their questions on that aspect of owning or selling a home.
Sarah is very excited to start her career with Exit Realty Frontier. It is true that, "Home is where the Heart is," which makes finding the right home an important choice! Sarah's enthusiasm and attention to providing quality service make her an excellent choice for anyone looking to buy or sell property in or around Fort Dodge.